Get Support Where You Need It The Most
SHOP BY CATEGORY / AREA OF PAIN
BaronActive has the right braces, compression products and supports to keep you moving and active throughout your life. We help you protect your joints and muscles and improve performances. True medical-grade compression by BaronActive helps with better blood circulation to boost oxygenating blood flow and remove inflammation. This reduces post-exercise soreness, swelling and improves recovery times. Find the right support for your activity or area of pain below.
All of our products have been developed and tested by professional physiotherapists, orthopedic surgeons, athletic trainers and professional athletes throughout different sports and activities.
Bestselling products of the week
Imagine starting each day with a sharp, stabbing pain in your heel, a pain so intense it feels like walking on a bed of nails.
Read More »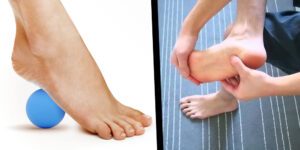 Plantar fasciitis is a common foot condition characterized by inflammation and pain in the plantar fascia, a thick band of tissue that connects the heel
Read More »
Are you tired of feeling stiff and restricted in your movements? Have you tried various stretching techniques but haven't achieved the desired results? Look no
Read More »